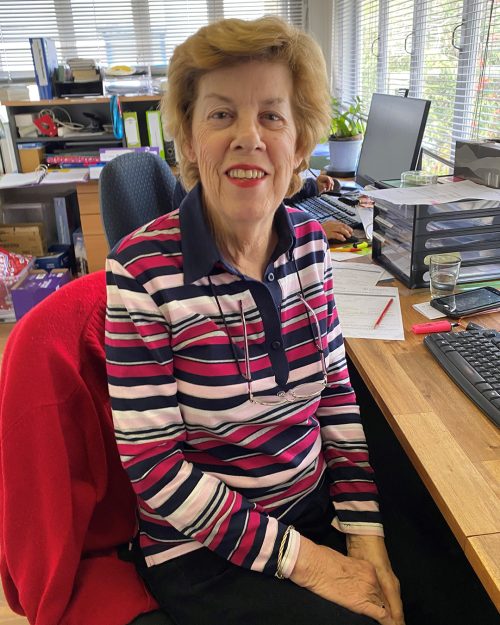 Sense of purpose motivates Romero Centre volunteer of 15 years​​
Meet Julie Upton, one of our dedicated volunteers
In a quiet corner of inner-city Brisbane nestled between old wooden Queenslander cottages, is a modest refuge for those who have fled their homes seeking safety and a chance at a new life in Australia.
Welcoming people to the refuge and assisting the Romero Centre support team is Julie Upton who has been volunteering at Romero for the past 15 years.
"I have been a volunteer here since 2008, when I retired from teaching and was looking for somewhere to help a worthwhile cause," Julie said.
Julie is among a small but loyal band of volunteers who assist when they can to ensure that the Romero Centre can continue to do the essential work they provide.
Julie helps with many of the administrative tasks for the Romero Centre, working at the front desk on the computer, answering phone calls, welcoming participants, connecting to case coordinators, and assisting the Romero Centre team to provide the essential services they do for refugees and asylum seekers.
We asked Julie why she continues to volunteer – what is the secret to the longevity of her volunteerism which must by now have amounted to several hundred hours of community service work.
"The following points come to mind," she explained, "to feel useful after retirement; to support important work in the community such as that done by the Romero Centre – I remember how grateful I was to the parent-aides in my classes for their support & reliability; and to help make a difference in the lives of those less fortunate."
Are there any other benefits from being a volunteer?
"There's a feeling of social connectedness through meeting a variety of people; the mental stimulation of learning new skills; widening my focus and appreciating my own good fortune!
"I'm sure other volunteers could add to the list, and I recommend volunteering to anyone who has the time and inclination."
The Romero Centre, which is funded through community support and donations, was established in 2000 in response to the needs of people arriving in Australia seeking safety and human rights. It is named after passionate human rights campaigner, Archbishop Oscar Romero from El Salvador.
Romero Centre manager, Mengistu Hailu, said volunteers were an important part of the Romero story.
"We have a dedicated team of volunteers and all of our pantry supplies – basic foodstuffs and hygiene items (including nappies for babies of all ages) – are donated by individuals, private companies and school communities through our regular collection drives or are purchased from monetary donations," he said.
"Our centre offers a wide range of support services for refugees and asylum seekers and their families including emergency food and support packages, English language classes, accommodation and legal advice and support. All our services and supports are provided as a free service and only made possible through community donations."
Find out more about how you can get involved here.